The 2019 RFUANZ Awards were presented on the 1st of May, at the Gala Dinner and Awards Night, to the following individuals:
Technical Excellence – Tony Howard, St John New Zealand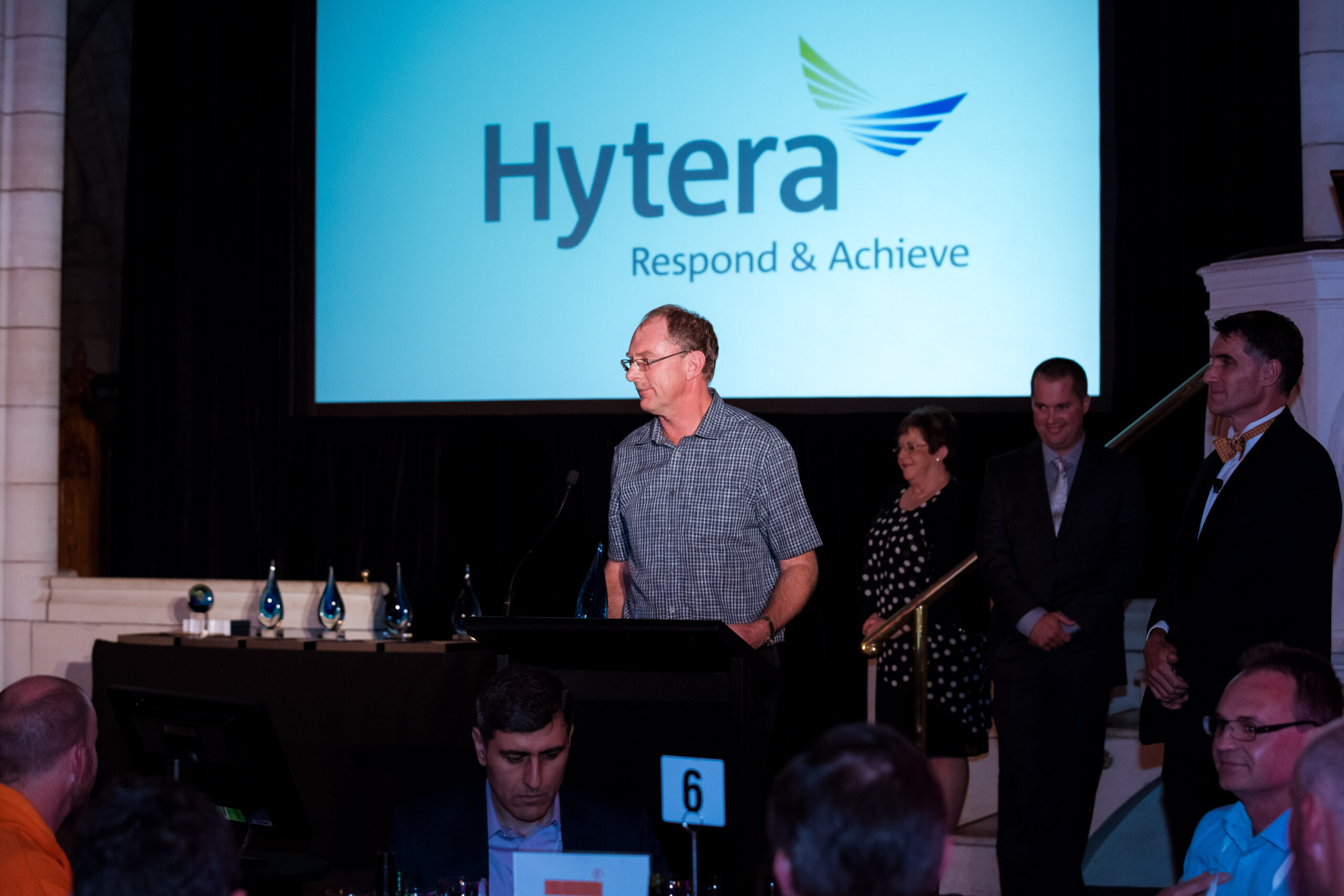 Tony joined St John in August 1989, working in the Dunedin based Regional Control Room as a Call Taker/Dispatcher. With a technical background from the New Zealand Post Office, he very quickly gained a reputation for wanting to know how systems worked. Tony's influence stretches from Ambulance installs, to network implementations and the Computer Aided Dispatch environment and he adds value across the board
His first major project commenced in the early 90's, when the Ambulance sector implemented an upgraded national Analogue Radio network consisting of some 98 VHF repeaters across New Zealand. Tony has been involved in many projects since then & his technical ability and understanding of the big picture makes him a true asset to St John. In 2012, Tony was selected as a technical representative for this Whole of Government Radio Network (WGRN) project and was able to provide invaluable input.
Tony is extremely deserving of the Technical Excellence Award.
Outstanding Sales, Support & Service – Roy Wittert, Cambium Networks
Roy's nomination exemplified what sales, support & service represent. His testimonials spoke about him as a professional, kind, patient, knowledgeable and positive sales engineer. He will never give up and always sees any communication with his customers as an opportunity. Roy always keeps up with the latest technology advancements and his excitement about the future of wireless in the IT world is infectious and genuine. Every year Roy runs many free events for the industry providing valuable upskilling and insights to uses for RF technology in the future.
Project Excellence – Steve Hooper, Logic Wireless
Logic Wireless are a proud supplier and integrator of a turn-key trunked Digital Mobile Radio solution for an exciting new international sailing series through event management company Controlled Events, based in UK. The series is re-defining the sport of sailing and features teams from six countries competing in high speed F50 catamarans in five locations around the globe. The radio communications for the first event in Sydney, Australia was a success due to the culmination of technical innovation, dedicated staff, customer insight, agile project management, and good old fashioned hard work. What was evident in this nomination, which was reinforced by customer testimonials, was Logic's 'Can Do, whatever it takes' attitude. Their nomination provided details into project complexity, operational performance, system architecture, budgets & schedules. This was an extremely complex project and we are proud to present this to Logic Wireless.
Employee of the Year – Malcolm Wallace, Communications Specialists
Malcolm joined Communications Specialists 4 years ago and since then, he has been instrumental in getting projects completed with minimum fuss and great planning. He is always happy to help the team, and can turn his hand from a vehicle installation to installing and programming of a DMR Tier 3 network with all IP connections. Malcolm has Built the Aurora DMR Tier 3 network, and maintains it, along with various other large networks. He is invaluable to us in designing new systems and devices. Malcolm is always professional and provides the sales team great advice on what is achievable, and usually if it's not achievable he has a very viable solution.
One of the major reasons that Malcolm was nominated for this award, is not just the fact that he is great at what he does, it's how he goes about doing things. Although very busy with multiple projects and jobs, he will always be available to help, or fit a quick job in-between what he is doing, always keeping the customers at the forefront of all decisions.
Apprentice of the Year – Leyton Smith, Dove Communications
Leyton is a HAM radio enthusiast and approached Dove after discussing the potential of a career change with our other young installer Chris Grala. Upon meeting with Leyton, it was clear he had a passion for both I.T and radio and with the growing convergence in the industry, it made sense for Dove to offer him a position.
Leyton quickly learnt the job and has performed well above expectations, providing exceptional customer service and workmanship. Leyton often goes above and beyond, voluntarily arriving early, staying late or working weekends to accommodate customer needs and accomplish his tasks. His customer service skills are exemplary. He is one of the friendliest people Dove know and he always arrives with a smile on his face and a happy greeting. Leyton has the ability to communicate effectively with all his co-workers, from the director level down.
Despite the overwhelming amount of work that everyone has, Leyton consistently finds ways to help his co-workers. His willingness to assist others and his commitment to continued learning is unequaled. Staff members throughout the business benefit from Leyton's enthusiasm and commitment and they have all noted that Leyton is thorough in his work, provides in-depth detailed knowledge, and he consistently follows-through to ensure tasks and projects are completed on time. Leyton has also enrolled in the New Zealand Certificate in Electrotechnology (Level 3) to further advance his studies within the industry and is looking forward to the challenge.
Lifetime Service Award – Trevor Laughton, Tait Communications
Shortly before Christmas last year, Trevor retired after almost 40 years in land mobile radio, all of them spent in Christchurch with Tait. Everyone that knows or has worked with Trevor speaks of him very highly. His commitment to the industry and brining on young talent was fundamental to Trevor's outlook, as was his determination to support the company's commercial health and the legacy of company founder, Sir Angus Tait.
Trevor had a passion for radios since age 10. At High School he was invited on a Tait Tour by Ian Gardiner (Tait Engineer). The tour must have made a lasting impression, as from School Trevor decided to peruse electrical engineering at Canterbury University and gained summer employment at Tait on the assembly line. Upon graduation, Trevor joined a team of about 35 engineers at Tait initially assigned to working on base station power supplies and a new range of AM mobile radios. Trevor returned to university to gain his Masters in Electrical Engineering. Upon completion, he returned to Tait, Trevor recalled feeling much more prepared to contribute to strongly to its development. This experience also cemented a belief in the value of research and the need for industry to support both applied and fundamental pillars.
Trevor's CV of achievements is impressive – there is a long list of engineering accomplishments which Trevor contributed to, as either a working engineer or as a leader.
As he rose through the ranks of the business, he added commercial acumen to his skillset. Trevor held responsibility for Tait's product roadmaps, intellectual property, marketing & research. Senior posts included Technical Director for 15 years and Chief Technology Officer (an executive director role with a seat of the Board of Directors). At retirement Trevor was General Manager of the New Zealand business. Before Sir Angus Tait's death in 2017, he put Tait ownership into a trust structured and charged the trustees with watching over the company and the industry. He made Trevor Laughton a trustee, a post he continues to hold. In recent years, Trevor gave substantial time to ensure that relations between Tait, the Trust and the University of Canterbury were constructive and productive. During that time, he was also a strong supporter of the company's annual intake of summer engineering interns from UC.
Trevor is enthusiastic, kind, honourable and supportive. He is self-effacing, always happier encouraging and applauding others than being in the spotlight. His efforts to the industry are thoroughly deserving of The Lifetime Service Award.