The 2021 RFUANZ Awards were presented on the 12th of May, at the Gala Dinner and Awards Night, to the following organizations/individuals:
Technical Excellence – Outback Communications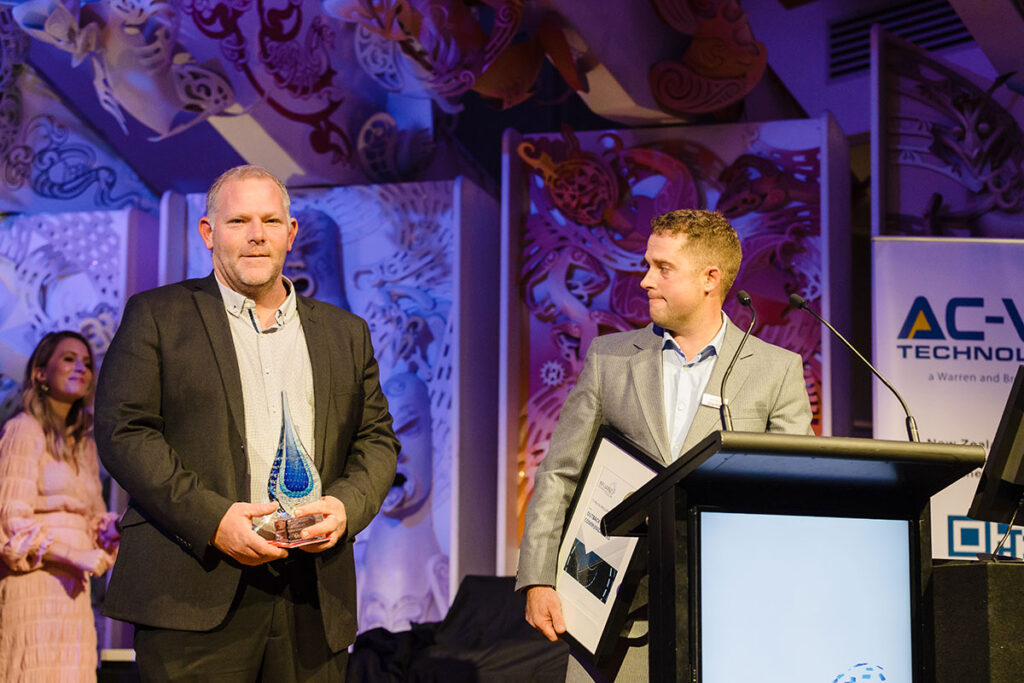 Outback Communications have provided exceptional technical advice, support and implementation to their clients. Their nomination detailed work with the Lyttleton Port and the Christchurch Marathon which epitomized technical excellence.
The work they have undertaken with Lyttleton Port consisted of VHF and UHF Marine upgrades. This has included:
New two site IP linked VHF simulcast analogue repeater for piloting of ships in the harbour.
IP linked station on harbour entrance for CH 16 and prime working channel coverage.
Two site commercial AIS TX/RX unit for vessel monitoring and artificial navigation aid broadcasting.
PTZ camera at harbour entrance for operational monitoring.
Two channel IP linked repeater access from Akaroa repeater for increased southern coverage.
As well as the Lyttleton Port, Outback Communications have been involved with the Christchurch Marathon. This originally started with a basic analogue back-to-back events repeater after the earthquake in 2011. Each year the solution has been modified/improved on learnings from the previous year's event. Over the years, this system has moved from analogue to DMR Tier 2 then later to DMR Tier 3.
Testimonials that support this nomination spoke highly of Outback, the team, their work ethic, and exceptional technical execution.

Project Excellence – Roger Scott, PowerNet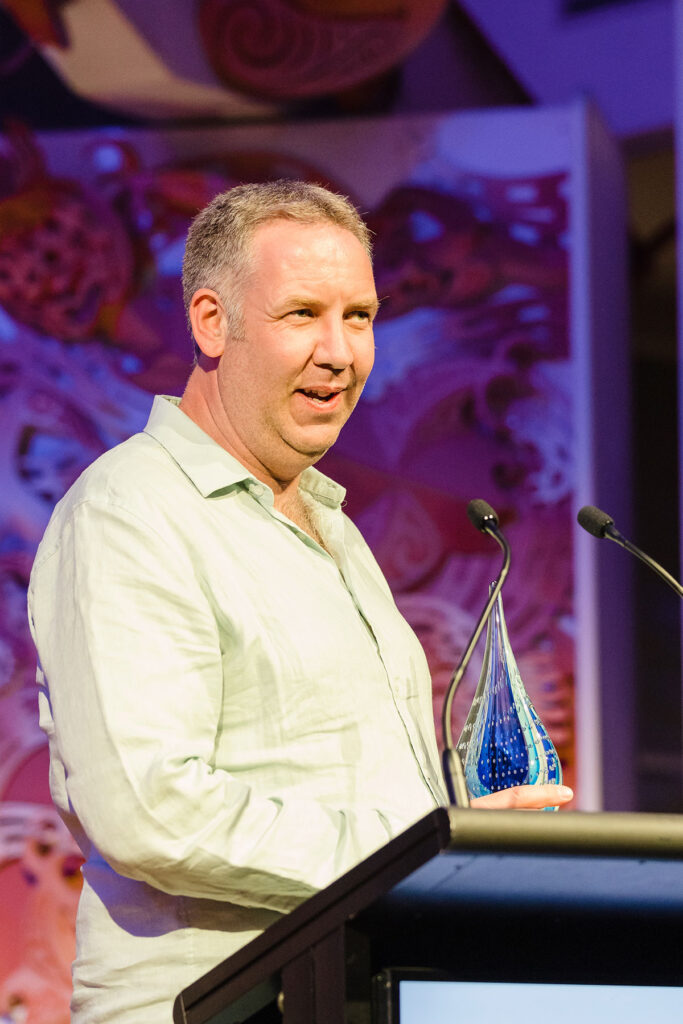 PowerNet have been awarded the Project Excellence Award for their work on the Oreti Valley Microwave Radio Network & Associated Works.
The Oreti Valley Project is a large scale, $27.3 million, five-year project to upgrade and extend electricity supply through central, western and northern Southland, giving local communities increased capacity, greater reliability and a future-proofed supply.
This project also strengthens the Southland networks by improving visibility and maintainability of the region's critical infrastructure.
With the project now completed, the distribution network in the region is ready for future load growth and will meet the needs of PowerNet's customers for generations to come.
The primary objectives included:
Improve resilience, maintainability and equipment visibility/management;
Path and equipment redundancy, ERPS, SNCP, VRRP;
Step change in traffic capacity;
Support multiple differentiated services over a common transport network;
High-capacity hybrid IP/Ethernet and a resilient TDMA architecture for modern teleprotection services;
Implementation of a suitable Network Management System (NMS);
Vendor selection through open tendering;
Installation contractor selection through closed tendering; and
Coordinated design across multiple substation upgrade projects.
Outstanding Sales, Support & Service – Corey Weir, Outback Communications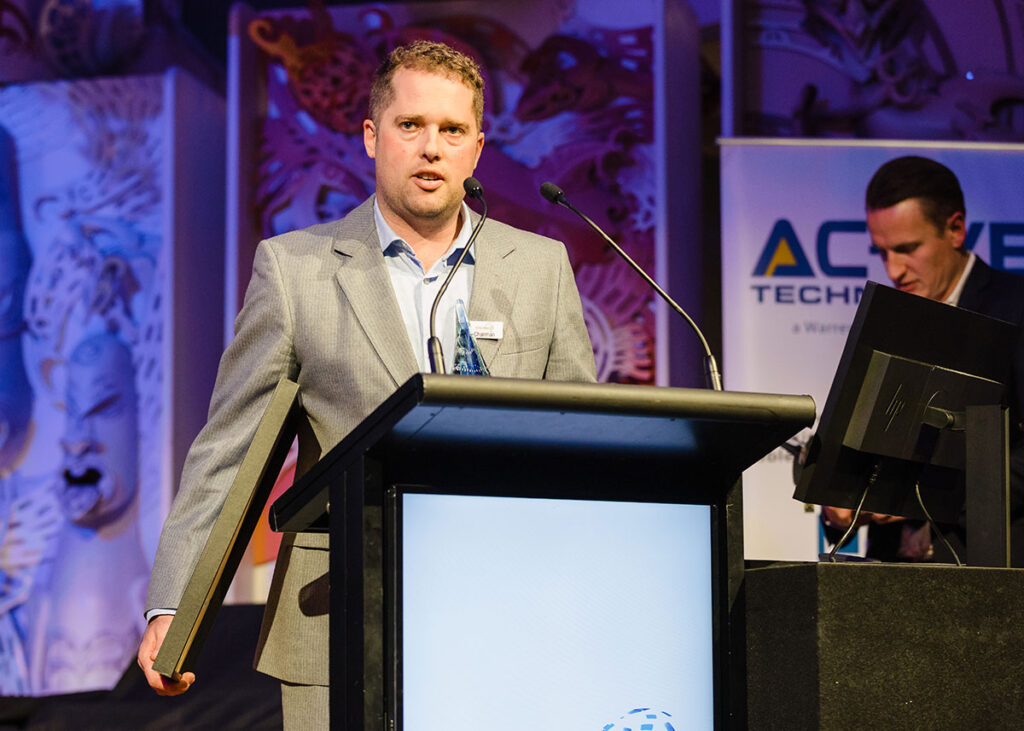 Numerous testimonials supported Corey's nomination, detailing his integrity, and delivering on the promise, understanding the customers' requirements and creating customised solutions. All his testimonials came from clients of repeat business proving his ability to satisfy customer requirements.
Paragraphs such as this appeared in Corey's nomination.
"Over the years of working with Outback Communications we have done our own due diligence to ensure we are working with the best and so far, we have found no other company in New Zealand which has the capability, customer service and technical know-how to meet our needs".
"I found Corey's willingness to take time to explain UHF/VHF technology to me in basic terms was invaluable. This enabled me to talk confidently to the relevant Project Sponsors".
Employee of the Year – Darcy Sapwell, Ashley Communications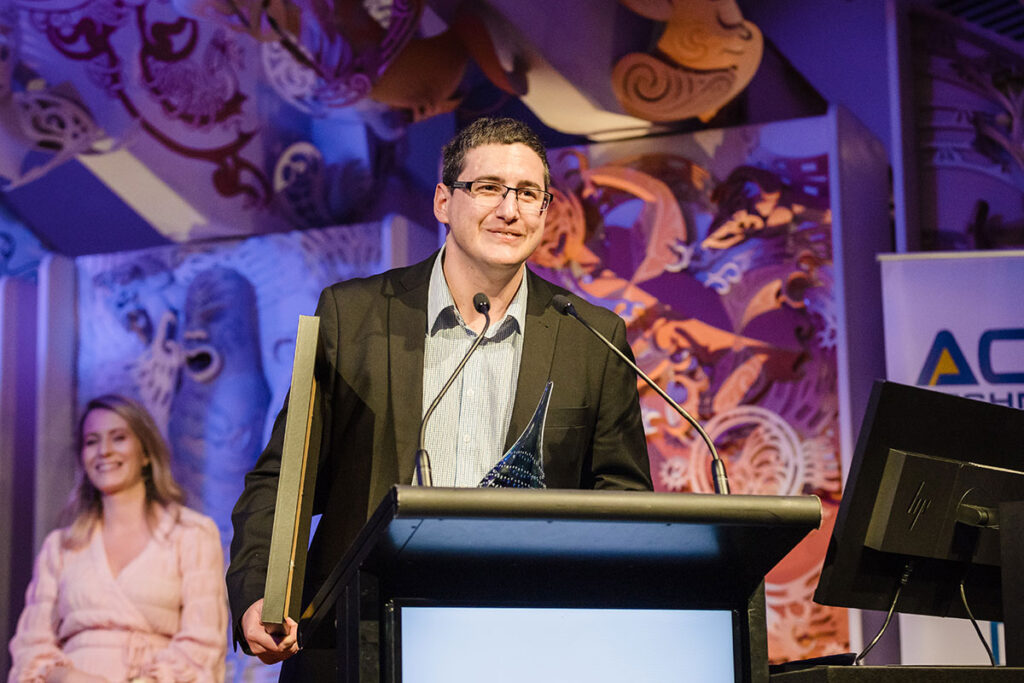 Darcy Sapwell has been working for Ashley's for over ten years and is an invaluable member of the team. Darcy currently holds the position of workshop supervisor, (as well as being a competent technician) and consistently exceeds expectations with his dedication to the company. He often works late, finishing off projects or solving customers queries. As a senior member of staff, he is often guiding the newer members of the team and invests time to teach them the way to complete different tasks. The marking criteria for this category includes going beyond the call of duty, consistently available to help others, loyal, reliable and goal oriented and shows initiative. Darcy's nomination satisfied all these requirements with both management and customers supporting his nomination. The team at Ashley Communications are immensely proud to have Darcy on their side.
Apprentice of the Year – Sam Aldworth (Hamil), Nelspecs
Sam started working for Nelspecs at the start of 2020 as a trainee radio technician at the age of 17. Sam's willingness to take on any role in the business, learn as much as he can from senior technicians and attend training courses is a testament to his commitment to the industry. He recently enrolled in the apprenticeship level 3 training and is working his way through this. He has a fantastic attitude – turning up to work early, bringing a positive attitude and always willing to work overtime to meet a customer need. He has fantastic customer service and is always willing to go the extra mile without being asked. Congratulations Sam, you are a well-deserved winner of this Apprentice of the Year!
Lifetime Service Award – David Thomson, Ashley Communications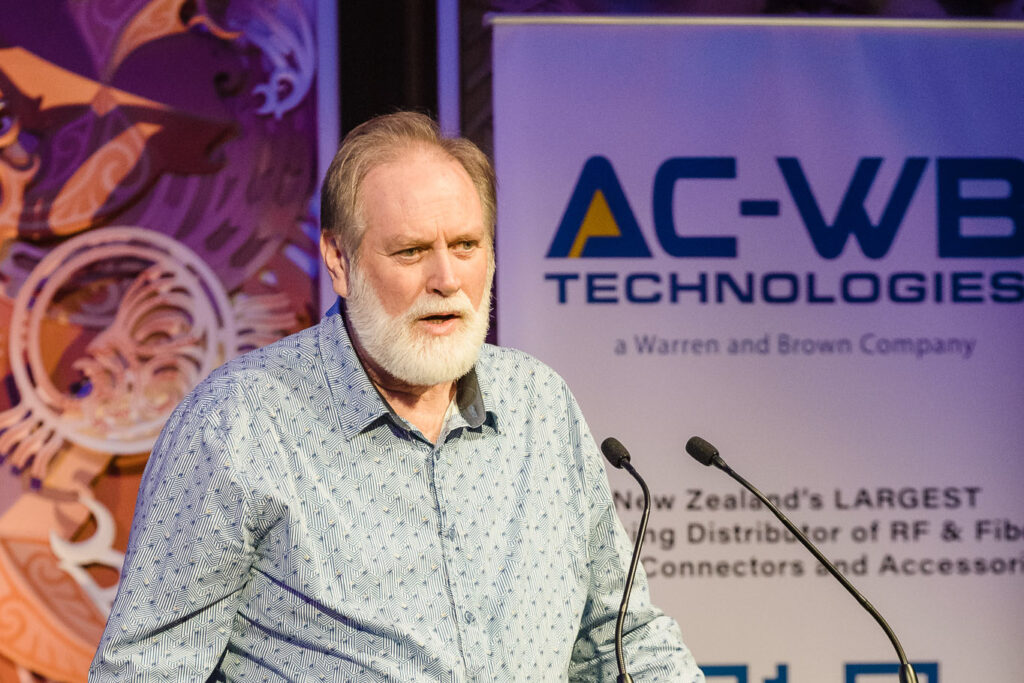 David Thomson is a man who needs little introduction as his name is familiar to many in this industry.
He has recently retired after almost 50 years in the industry, and it's a very fitting send off to be able to recognise these years of dedication to radio in NZ.
Many of these years he has served on the RFUANZ committee and then as RFUANZ chairman.
David has been an incredible knowledge source and a great teacher over the years. In a time of no official RF qualifications, he spent many hours teaching new staff RF and electronics theory as well as practical skills such as soldering antenna bases and constructing folded dipoles.
Here is a brief history and testimonial supplied by Gill Cragg who worked in the office for Ashley Electronics for many years.
David left school 50 years ago to take up an apprenticeship as a Radio Serviceman with Tom and Kevin Ashley working in their shop/workshop in Waimate. The company itself had been long standing in the community started by Tom and Kevin's grandfather and was originally selling and servicing bicycles and motorbikes, then later venturing into valve radios. However, by the time David joined it they were selling and servicing home appliances, TV's and of course radio telephones. As well as servicing and installing radios David did his time on TV's both installing and repairing (of course at that time TV's were still only black and white!) as well as the other appliances. Regarding radio telephones – they were large and cumbersome. Aligning a radio on channel involved soldering in quartz crystals, one transmit and one receive for each frequency and then tuning – a far cry from the programming of a radio today. Fortunately, back then there was also more room in vehicles for installation than what there is today and there was less plastic for mounting too.
Doing his Radio Serviceman's apprenticeship involved completing assignments and then attending block courses in Wellington – incidentally, back then you could catch the overnight Ferry from Lyttleton to Wellington. The accommodation was at Trentham and that was a story all of its own.
The Post Office was in total control of the licencing throughout New Zealand and Radio Inspectors were plentiful with some even based in Timaru.
Time moved on and unfortunately Tom Ashley passed away. Kevin could see that Waimate was on the decline and he decided to move the business to Timaru. This was actually easier for David as he was now married and living in Timaru. Technology was also moving and whilst the radios still required crystals they were decreasing in size. Gradually the business was moving more into the mobile radio industry.
Sadly, Kevin then also passed away and eventually his widow decided to sell the business. David took over. Times were not easy for any business at that time – it was the Muldoon era with high taxes and high interest rates.
The Post Office was decommissioned and the radio spectrum was auctioned off. David could see a future in having his own Network. So, Mount Studholme was the first site developed and as that was successful more sites followed. We should perhaps mention here that David did his own design, build and pole rigging along with members of his staff. It was a new era and took the business completely away from home appliances to solely mobile radio supply, repair and Network provider.
This brought new challenges with the need to build resilient solar powered radio repeater sites that would stand up to the harsh conditions that winter mountain weather can produce. However, this was achieved but of course over the years there has been many trips for general maintenance and repair utilising 4WD vehicles, helicopters and foot (when the weather clagged in suddenly and expectantly)! One particular trip the helicopter pilot assured David that the load they had on was not too heavy. So, despite David's misgivings they attempted to take off and dropped down over the side with David's ladders on the hook getting smashed to pieces on the side of the mountain as the helicopter could not get enough lift. They did make it but sadly and perhaps not surprisingly this pilot died some years later in a helicopter accident.
Radio technology was now progressing and crystals were no longer required and radios had become programmable. You could now do more other than just send tones or make voice calls. There were "bugs" though and one very memorable occurrence comes to mind. A fleet of new model radios had been installed for one of Ashleys larger customers. In a very short time a fault became apparent across the whole fleet of new radios. The manufacturer (who shall remain nameless) was consulted and Ashleys was met by disbelief. The issue carried on for some months despite repeatedly talking to the manufacturer. David was eventually, astoundingly, advised that it was only Ashleys who had this fault – this statement combined with trying to deal with the customers frustration was the final straw. There and then, David took one of the offending radios, drove to Christchurch, went in to the manufacturers, slammed the radio on the table and told the people present in no uncertain terms to fix it. What the people present on that day don't know is that before he left for Christchurch he was talked out of taking an axe which was going to get smashed through the said radio! Funny thing after that a common fault was discovered and a remedy found. Over all the years and through many challenging times that was the only occasion David was ever seen truly wild!
David also did time with RFUANZ as you will all know, both as a committee member and Chairman dealing with some contentious issues/legislation where meetings at the Beehive were required.
David employed various staff members over the time and always tried to have a young apprentice to learn the trade – this is in the days when Apprenticeships existed. After the Apprenticeship system was disestablished David still employed young people to train in the Radio field as he felt without people coming on what would happen to the Industry in the future. Needless to say, some staff members were more successful than others but generally it was a happy team at Ashleys Electronics.
Over the years David serviced and installed mobile radios, advised customers on best fit solutions for their communications, installed and maintained high level repeater sites, liaised with government officials (along with other members of RFUANZ) on mobile radio users' behalf and worked tirelessly to satisfy his customers with radio communications. There were many memorable moments of laughter, disbelief, frustration and relief along the way when liaising with customers, suppliers and not to mention other Dealers!